Doorheen mijn jaren als blogger (sinds 2002) en marketing strateeg is er veel veranderd in het digitaal landschap. Mijn ervaringen (als HubSpot freelancer of GDPR freelancer)en vooral praktische tips deel ik dan ook graag als blogger, docent en online marketing spreker.
Als spreker voor presentaties, keynotes en workshops ben ik steeds te vinden voor het geven van een presentatie over:
Spreker over Bloggen: beginners tot advanced
Spreker over Content marketing
Spreker over Marketing automation / Inbound marketing via HubSpot
Spreker over (Technische) SEO en SEA
Spreker over Marketplaces
Spreker over GDPR wetgeving en toepassing op marketing als DPO
Aankomende workshops/presentaties als spreker
Op de hoogte blijven? Schrijf je in op de Dailybits mailinglijst om de toekomstige workshops steeds als eerst mee te krijgen.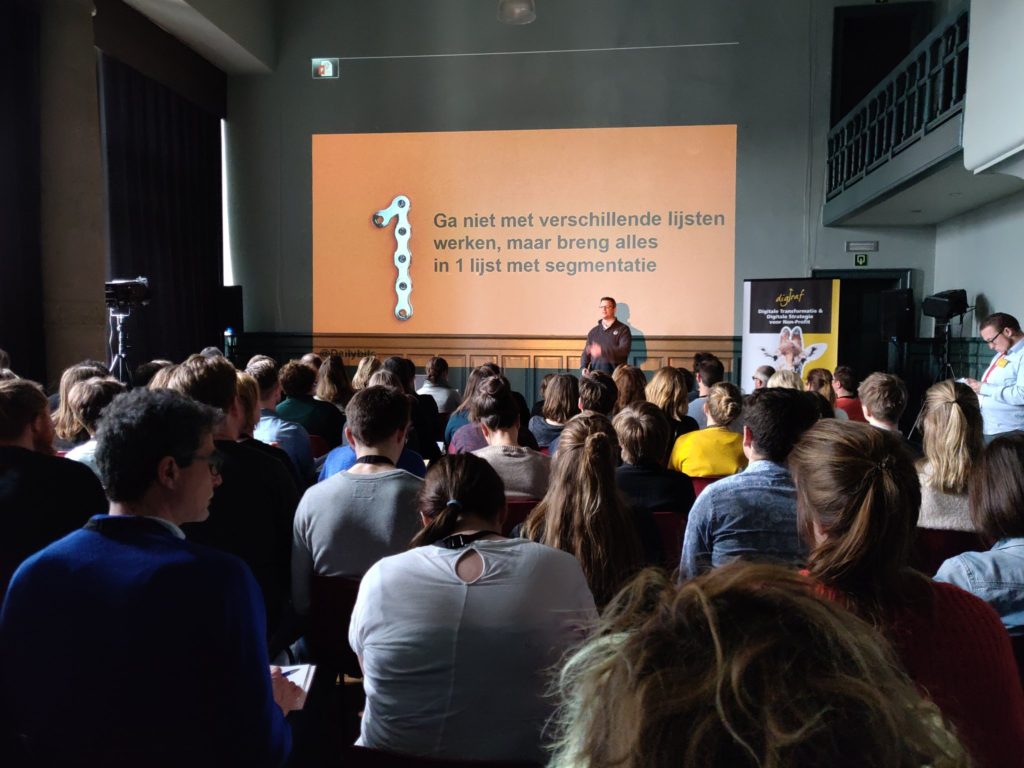 Afgelopen Presentaties als eventspreker
Overzichtje van de presentaties en workshops waar ik als online marketing spreker een presentatie, gastcollege of workshop gaf.
| Datum | Locatie | Omschrijving |
| --- | --- | --- |
| 19/06/2023 | Mechelen | Data Protection & Technology |
| 25/05/2023 | KDG Antwerpen | Postgraduaat Digital Business |
| 22/05/2023 | Pelt | Presentatie voor ouders van de lagere school rond social media, schermtijd,… |
| 16/05/2023 | Brugge | Presentatie voor ouders van de lagere school rond social media, schermtijd,… |
| 11/05/2022 | KDG Antwerpen | Postgraduaat HR People & Business |
| 08/05/2023 | Schoten | Presentatie voor ouders van de lagere school rond social media, schermtijd,… |
| 27/04/2023 | Haacht | Presentatie voor ouders van de lagere school rond social media, schermtijd,… |
| 21/04/2022 | Gondola Academy | Marketplaces opleiding (3uur) |
| 09/03/2023 | Live event voor de bouwsector | Datakwaliteit in een CRM |
| 07/03/2023 | Aalter | Presentatie voor ouders van de lagere school rond social media, schermtijd,… |
| 02/03/2023 | Brugge – Ubora event | Presentatie over het tijdperk na Google Analytics en hoe marketing zal veranderen door alle privacy wetgeving. |
| 01/03/2023 | Epos opleiding | Online opleiding rond GDPR |
| 28/02/2023 | Zemst | Presentatie voor ouders van de lagere school rond social media, schermtijd,… |
| 14/02/2023 | ICTweek voor het onderwijs | Online presentatie tijdens de ICTweek voor het onderwijs |
| 03/02/2023 | Bijzondere jeugdzorg | Presentatie voor ouders van de lagere school rond social media, schermtijd,… |
| 24/01/2023 | Ranst | Presentatie voor ouders van de lagere school rond social media, schermtijd,… |
| 19/01/2023 | Hoboken | Presentatie voor ouders van de lagere school rond social media, schermtijd,… |
| 22/12/2022 | KDG Antwerpen | Postgraduaat Digital Business |
| 5/12/2022 | Gent | DP-institute – opleiding GDPR & Technology |
| 1/12/2022 | Gastcollege HoGent | Evoluties in digitale marketing |
| 18/11/2022 | Xerius | in-company presentatie over trend in online marketing en privacy |
| 17/11/2022 | Mechelen | Presentatie voor ouders van de lagere school rond social media, schermtijd,… |
| 13/10/2022 | Wakkerzeel | Presentatie voor ouders van de lagere school rond social media, schermtijd,… |
| 5/10/2022 | Privcon Antwerpen | Spreker op deze 1ste editie van deze Privacy conferentie |
| 12/08/2022 | Fri3dcamp 2022 avondtalk | Hoe werkt online tracking? |
| 30/06/2022 | Proximus Brussel – VLCM event | Wat te doen tegen hacks van je FB/Instagram account? |
| 17/06/2022 | Gondola Academy | Marketplaces opleiding (3uur) |
| 19/05/2022 | KDG Antwerpen | Postgraduaat Digital Business |
| 12/05/2022 | KDG Antwerpen | Postgraduaat HR People & Business |
| 11/05/2022 | DP-Institute – Brussel | DP-institute – opleiding GDPR & Technology |
| 25/04/2022 | Webinar Horeca Vlaanderen | Cybersecurity gevaren |
| 01/04/2022 | HubSpot User Group | HubSpot als enterprise CRM inzetten? |
| 21/03/2022 | iO webinar | gratis webinar – Wat zijn marketplaces? Hoe werken ze en moet ik erop aanwezig zijn? |
| 16/03/2022 | Epos webinar | Online opleiding rond GDPR |
| 15/03/2022 | Webinar Horeca Vlaanderen | gratis webinar – Hacking, ransomwaren, 2fa,… |
| 23/12/2021 | KDG Antwerpen | Postgraduaat HR People & Business |
| 6/12/2021 | DP-Institute – Antwerpen | DP-institute – opleiding GDPR & Technology |
| 29/10/2021 | Gondola Academy | Marketplaces opleiding (3uur) |
| 28/10/2021 | Webinar Safehops/NSZ | Start to marketplace |
| 27/09/2021 | Gent | DP-institute – opleiding GDPR & Technology |
| 15/09/2021 | eOne Solutions event | Hubspot as marketing platform in a cookieless future |
| 14/09/2021 | Webinar Safehops/NSZ | Start to marketplace |
| 16/06/2021 | Gondola Academy | Hoe ga je om met marketplaces binnen e-commerce? |
| 15/06/2021 | Gent | Stayed Tuned DP-Institute |
| 10/06/2021 | KDG Antwerpen | Postgraduaat HR People & Business |
| 02/06/2021 | Webinar AMD | webinar rond Privacy by design voor hun expertgroup |
| 01/06/2021 | Webinar Safeshops/NSZ | Start to marketplace |
| 01/06/2021 | Mechelen | Stayed Tuned DP-Institute Hoe zit dat nu met Google Privacy Sandbox? |
| 28/05/2021 | HubSpot User Group | Webinar #1 van onze nieuwe HUG |
| 27/05/2021 | KDG Antwerpen | Postgraduaat Digital Business |
| 2020-2021 | UHasselt | Google Analytics (2 vakken) – Masterstudenten Handelsingenieur |
| Voorjaar 2021 | Voka Limburg | LAB Digitale Marketing |
| 28/04/2021 | Webinar NSZ | Start to marketplace |
| 11/03/2021 | Online opleiding Voka | GDPR en en leadgeneratie? |
| 25/02/2021 | Webinar Starten met Online verkopen | Webinar samen met Kamal over verkopen in het buitenland |
| 23/02/2021 | Webinar Horeca Vlaanderen | Hoe meer online zichtbaarheid in Google krijgen met mijn horecazaak? |
| 2/02/2021 | Webinar Horeca Vlaanderen | Wat mag er nu in marketing met gdpr? |
| 21/01/2021 | Webinar NSZ | Start to marketplace |
| 17/12/2020 | KDG postgraduaat Digital Business | Privacy, ethiek en security in marketing |
| 15/12/2020 | Webinar Toerisme Provincie Antwerpen | Webinar IoT en AI |
| 1/12/2020 | Webinar Horeca Vlaanderen | Online security voor horeca onernemers |
| najaar 2020 | Thomas More Mechelen | Docent in opleiding 2IMS en 3IMS |
| 18/11/2020 | UHasselt SEE opleiding | Marketing & Branding |
| 13/11/2020 | Postgraduaat Artevelde Hogeschoool | Praktisch inzetten van HubSpot |
| 23/06/2020 | Gent | DP-institute GDPR & Technology training |
| 10/06/2020 | Cheops webinar | Webinar voor Cheops |
| 08/06/2020 | Voka plato | Meten van digitale marketing in woelige tijden |
| Voorjaar 2020 | Hasselt | Voka Limburg ondernemersuniversiteit (6 sessies) |
| 15/05/2020 | Horeca Vlaanderen webinar | Security voor horeca ondernemers |
| Q2 – 2020 | UHasselt | Praktijkassistent Google Analytics |
| 07/05/2020 | Facebook | Facebook live voor Telsmart |
| 30/04/2020 | Antwerpen | KDG postgraduaat Digital Business |
| 25/03/2020 | Webinar Intracto | SEO tips en tricks |
| 11/03/2020 | Mechelen | DP-institute GDPR & Technology |
| 10/03/2020 | Geel | GDPR en en leadgeneratie? |
| 28/01/2020 | Intracto, Herentals | voice SEO is het nu echt iets? |
| najaar 2019 | Thomas More Mechelen | Docent in opleiding 2IMS en 3IMS |
| 05/12/2019 | Antwerpen | KDG postgraduaat Digital Business |
| 19/10/2019 | Antwerpen | ICT-dag Domus Medica |
| 12/06/2019 | Mechelen | GDPR4Juristen |
| 05/2019 | UHasselt | Praktijkassistent Google Analytics |
| 09/05/2019 | Kontich | Retail omnichannel event |
| 02/05/2019 | Antwerpen | KDG postgraduaat Digital Business |
| 25/04/2019 | Deurne | Telsmart marketing event |
| 05/04/2019 | Herentals | Intracto Marketing Automation event – the right tool |
| 04/04/2019 | Mechelen | belevingsdagen Thomas More |
| 28/03/2019 | Den Bosch (NL) | De rol van de gebruiker event |
| 19/03/2019 | Vooruit, Gent | E-mail marketing op Publiek19 |
| 28/02/2019 | Combell, Gent | SEO Benelux meetup bij Combell |
| 19/02/2019 | HoGent postgraduaat | Companyblogging |
| 22/01/2019 | Belevingsdagen Thomas More | Data analytics sessie voor 6de middelbaar studenten |
| 09-10-11-12/2018 | Thomas More Mechelen | Docent Marketing Analytics en Customer Insights in 2IMS en 3IMS |
| 19/12/2018 | Herentals | PXL hasselt – digitale marketing case |
| 18/12/2018 | Herentals | Voka Plato groep – digitale marketing case |
| 11/12/2018 | Gent | Privacy, security en GDPR voor Telenet Business |
| 07/12/2018 | Mechelen | Privacy, security en GDPR voor Telenet Business |
| 04/12/2018 | Sint-Truiden | Privacy, security en GDPR voor Telenet Business |
| 20/11/2018 | Sint-Niklaas | De must-haves voor elke goede e-commerce site in de reiscarsector |
| 08/11/2018 | KDG Antwerpen | Postgraduaat Digital Business over Privacy & Security |
| 07/11/2018 | Corda Campus via Nxt-PRO | Companyblogging inhouse aan SAP consultants |
| 16/10/2018 | WeGoStem | Lesgeven in een lagere school in het kader van WeGoStem |
| 08/08/2018 | Telenet flagshipstore, Antwerpen | Verhoog de vindbaarheid van je website |
| 27/06/2018 | Gent | Mijn leven als DPO na 25 mei |
| 04/2018 | Thomas More Mechelen | Docent module "Customer Insights" in IMS |
| 15/05/2018 | Syntra Sint-Niklaas | Dagcursus bij Syntra |
| 08/05/2018 | Voka Mechelen | Betalende workshop rond GDPR voor marketing/sales |
| 03/05/2018 | Voka Geel | Betalende workshop rond GDPR voor marketing/sales |
| 02/05/2018 | Antwerpen | Company awareness training rond GDPR voor IT consultants |
| 17/04/2018 | Schiphol (NL) | Company inspiration day rond New technologies (AI, AR, IoT,…) |
| 29/03/2018 | KDG Antwerpen | Postgraduaat Digital Business |
| 22/03/2018 | Unizo Beveren | GDPR moet ik hiervan nu schrik hebben? |
| 07/03/2018 | Syntra Gent | Dagcursus bij Syntra |
| 03/03/2018 | Wordcamp Antwerp 2018 | Keynote op Wordcamp Antwerp over GDPR fails in WordPress |
| 01/03/2018 | Beerse | Made in de kempen live |
| 20/02/2018 | HoGent | Postgraduaat Digitale Marketing |
| 8/02/2018 | Syntra Gent | Nxt-pro dagcursus professioneel bloggen |
| 30/01/2018 | Voka Kempen | Gastdocent voor de marketing kijk op GDPR |
| 11/01/2018 | Antwerpen | RPPRT Academy: Slim je content verspreiden |
| 06/12/2017 | Antwerpen | RPPRT Academy: zelf een WordPress bouwen |
| 28/11/2017 | Brussel | GDPR interview op Mainstage Conversion Day 2017 |
| 23/11/2017 | KDG Antwerpen | Postgraduaat Digital Business -> GDPR |
| 8/11/2017 | Antwerpen | RPPRT Academy – zelf een WordPress bouwen |
| 26/10/2017 | KDG Antwerpen | GDPR presentatie op de Marketing Experience Days |
| 26/10/2017 | Thomas More – IMD | GDPR voor developers |
| 20/10/2017 | Intracto | Klantenevent rond de implementatie van GDPR en de impact op marketing en het bedrijf |
| 11/10/2017 | Digital construction Brussels | Digitale marketing voor bouwbedrijven |
| 29/09/2017 | Intracto | Klantenevent rond de implementatie van GDPR en de impact op digitale communicatie |
| 23/06/2017 | Intracto | Inbound- en Account Based Marketing |
| 21/06/2017 | Bornem | Toerisme event Provincie Antwerpen |
| 14/06/2017 | Syntra Sint-Niklaas | E-marketing opleiding Syntra |
| 31/05/2017 | Syntra Gent | Professioneel bloggen Syntra |
| 19/04/2017 | Kessel-Lo | Social media presentatie voor recreatiedomeinen |
| 28/02/2017 | Gent | Gastdocent Postgraduaat HoGent Digitale Marketing |
| 15/02/2017 | Syntra | Dagcursus bij Syntra |
| 09/02/2017 | Lilse Bergen | Presentatie rond tracking en omgang met online reviews in de reissector |
| 07/02/2017 | Intracto | Praktisch aan de slag met SEO |
| 01/02/2017 | PXL Hasselt | Gastcollege SEA & SEO in postgraduaat digitale marketing |
| 25/01/2017 | Syntra Berchem | Professioneel bloggen bij Syntra |
| 25/01/2017 | Mechelen | privé Avondopleiding Google Analytics |
| 17/11/2016 | Thomas More Mechelen | Docent in keuzetraject Marketing Technologist |
| 15/11/2016 | Huizingen | GSE Young potentials inspiration |
| 8/11/2016 | Genk | liveaudits rond SEO voor lokale ondernemers |
| 8/11/2016 | Herentals | Crashcourse Voka Kempen- conversie en e-mail marketing |
| 25/10/2016 | Thomas More Mechelen | Gastcollege avondevent Digital Media Manager |
| 12/10/2016 | Syntra | Dagcursus e-marketing bij Syntra |
| 25/08/2016 | Google Analytics User Conference | Presentatie rond Closing the loop op #GAUCBE |
| 23/06/2016 | Feweb summerevent | Pecha Kucha op Feweb event |
| 02/06/2016 | Brussel | Inhouse SEO dagopleiding bij klant |
| 25/05/2016 | UCLL Diepenbeek | Gastcollege rond digitale communicatie |
| 17/05/2016 | C-Mine Genk | avondopleiding SEO voor kleine ondernemers |
| 25/04/2016 | VLCM 13 | Personal branding via een blog op #VLCM13 |
| 19/04/2016 | Persacademie | Bijscholing voor journalisten bij de Persacademie |
| 15/04/2016 | KBC toren | Adviseur voor starters tijdens de FlandersDC adviesdag |
| 26/03/2016 | Intracto Herentals | Start 2 Blog Belgian Girl Geeks |
| 22/03/2016 | Idealabs | Kickstartday voor de startups |
| 16/03/2016 | Antwerpen | Online marketing – Impulskrediet |
| 15/03/2016 | HoGent | (Company) bloggen samen met Emma Gelaude |
| 10/03/2016 | Syntra Gent | Professioneel bloggen |
| 08/03/2016 | Intracto Herentals | Zelf aan de slag met SEO dagopleiding |
| 03/03/2016 | Syntra Gent | Professioneel bloggen |
| 01/03/2016 | Leuven | SEO opleiding – The Internet Marketing School |
| 24/02/2016 | Dallas, Antwerpen | HubSpot User Group Antwerp: HubSpot SEO presentatie |
| 03/02/2016 | PXL Hasselt | SEO/SEA in Postgraduaat Digitale Marketing |
| 26/11/2015 | KBC Toren Antwerpen | WordPress Antwerpen Meetup |
| 25/11/2015 | Thomas More Mechelen | gastcollege over Hubspot |
| 28/10/2015 | KDG Marketing | Marketing Experience days |
| 27/10/2015 | Time To Tango, Leuven | SEO + content marketing + storytelling |
| 24/10/2015 | Het Bolwerk Edegem | Low budget marketing – Adviesdag SOSidee |
| 13/10/2015 | Syntra Gent | Gastcollege social media opleiding |
| 07/10/2015 | Thomas More Mechelen | Proclamatie IMD |
| 06/10/2015 | Antwerpen | Workshop bloggen op Social Media Day culturele sector |
| 24/09/2015 | Intracto | Opleiding SEO advanced |
| 27/06/2015 | Idealabs, Antwerpen | Blogger bol.com affiliate event |
| 23/06/2015 | Tour & Taxis, Brussel | Wijze mens tijdens de speeddates op Creative Ville |
| 04/06/2015 | Unizo B2B opleiding digitale marketing – Zwijnaarde | Hoe online prospecteren? |
| 23/05/2015 | Leuven | Bloggen voor startups presentatie op Bryo event |
| 13/05/2015 | Mechelen | SEO/Content marketing Gastcollege IMD Thomas More |
| 10/05/2015 | Mechelen | technische kant van Bloggen Femma Blogschool |
| 05/05/2015 | Voka Hasselt | Blogging business voor CreativeXChange |
| 02/04/2015 | Brussel | Presentatie omtrent Social Media Monitoring |
| 31/03/2015 | Kontich | SEO training bij Learnia |
| 24/03/2015 | HoGent | Presentatie voor Postgraduaat Digitale Marketing |
| 21/01/2015 | PXL Hasselt | Gastcollege search marketing (SEO & SEA) voor postgraduaat (slideshare) |
| 16/12/2014 | Thomas More Mechelen | Gastcollege over The mobile revolution (slideshare) |
| 05/12/2014 | Geel | Blogosphere blogevent |
| 08/11/2014 | C-mine, Genk | Gitzwart blogging advanced workshop |
| 05/11/2014 | Kortrijk | 3 praktische workshops voor Generation Creatives |
| 22/10/2014 | The Clubhouse, Kontich | Online marketing/buzzword presentatie |
| 21/10/2014 | KDG Antwerpen | presentatie over bloggen tijdens Marketing Experience days |
| 18/10/2014 | C-mine, Genk | Gitzwart blogging basics workshop |
| 14/10/2014 | Huis Happaert, Antwerpen | Fly-in blogging presentatie |
| 14/10/2014 | Cevora | Cevora online marketing en SEO dagcursus |
| 07/10/2014 | Cevora | Cevora online marketing en SEO dagcursus |
| 02/10/2014 | Gent | Tradetracker affiliate day 2014 |
| 15/05/2014 | Brusselse kaaitheater | Een workshop omtrent bloggen in de creatieve sector bij Upwards. |
| | Gent/Antwerpen | Lesgever van de Cevora dagopleiding: "GRH178 – Websites en zoekmachine optimalisatie (SEO)" |
| 02/04/2014 | Thomas More Mechelen | "IMD invites Dailybits" in The Creativity Gym van Thomas More |
| 12/03/2014 | KBC toren Antwerpen | bloggen voor ondernemers workshop "Beauty & the geek" georganiseerd door Think with People in de Antwerpse KBC-toren. |
| 08/03/2014 | Antwerpen | Korte mini-workshop gehouden op de Blogameetup in Wasbar Antwerpen op 8 maart. |
| 06/03/2014 | Antwerpen | 2 workshops op bloggingbusiness.be op 6 maart in Antwerpen. Dit naast bloggers Tom Cole, Stephanie Duval en Patricia Goijens. |
| 19/02/2014 | Antwerpen | Eigen #blogbits presentatie |
| 18/02/2014 | Antwerpen | Eigen #blogbits presentatie |
| 12/02/2014 | Gent | Eigen #blogbits presentatie |